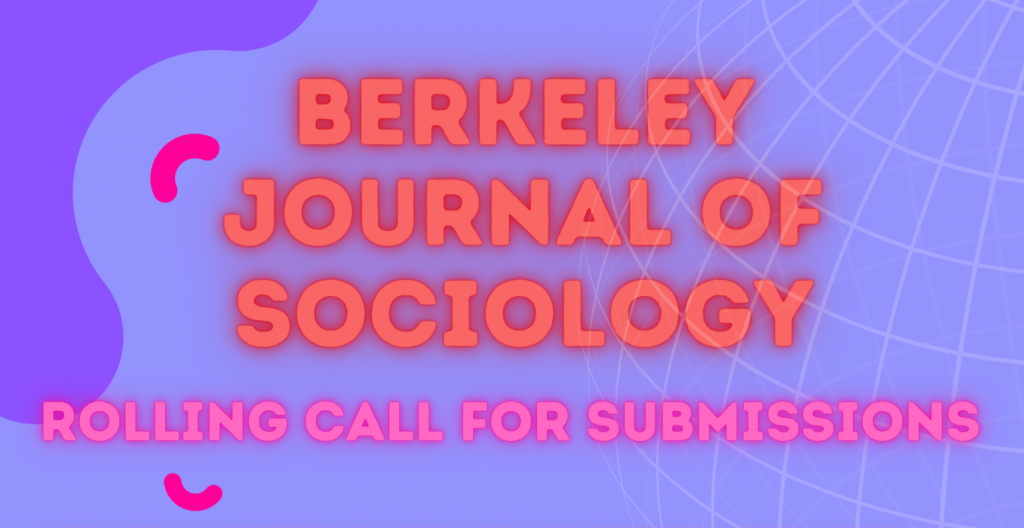 The Berkeley Journal of Sociology is a graduate student-run journal with a renewed focus on public sociology. We seek to translate academic social science research into forms that engage wider reading publics. The journal aims to broaden the interpretive range, imaginative scope, and prospective application of sociologically-oriented research to political struggles, emerging cultural trends, and imaginations of alternative futures.
We are currently accepting submissions for our 2024 print journal and website. To be considered for this issue, submissions are due by December 1, 2023 at submissionsbjs@gmail.com. See below for our general submission policies. Should you have any questions, please consult this website or email us at submissionsbjs@gmail.com.
Submission guidelines
The Berkeley Journal of Sociology is accepting the following kinds of submissions:
Essays: long-form articles based on academic research on any timely social issue or phenomena, or the design, implementation, or practice of social policies. Essays are published in our biannual print journals and on our website. Submissions should be relevant to broad audiences outside of academia, and should also incorporate independent research and support claims with original evidence (2,000–5,000 words)
Commentary: assessments and critiques of contemporary social, political, or cultural events, journalistic coverage, recent reports, and public discourse (1,000–2,500 words)
Book reviews: essays that use recently published or canonical books as launching pads to discuss broader social issues (1,000–2,500 words)
Field memos: elaborations of lessons learned and novel methodologies undertaken in the field as they relate to contemporary social struggles, political debates, or social-scientific practice (500–1,000 words)
Photo essays: sociological and visual critiques of society at large
Submission Policies
Submissions must be original work.
All submissions should be written or produced for a general audience.
Articles should be timely, jargon-free, and should support all claims with clear and convincing evidence.
We encourage you to include a high-resolution image or figure to accompany your article.
Submissions that have already been published elsewhere are not eligible for BJS publication. However, pieces that are extensions/expansions/elaborations on past work, as long as they have not been published previously, are eligible for submission.
Submissions for the print edition are due by December 1, 2023. If you wish, you may contact
us to inquire about specific ideas or proposals before the deadline. Email submissions (and
questions about submissions) to submissionsbjs@gmail.com.
Review Process
All journal submissions are peer-reviewed. You can expect to receive feedback or further communication on your submission by mid-late January, or about a month after the submission deadline.
The BJS Editorial Team reviews submissions. Typically each submission is reviewed anonymously by 1-2 members of the editorial team.
The review process has two rounds. In the first round, submissions are either 1) rejected or 2) we invite authors to revise and resubmit based on editorial feedback. In the second round, revised submissions are reviewed again and are either 1) rejected or 2) invited to resubmit with revisions for final publication in the journal. Typically the same members of the editorial team review the piece throughout the process.
The whole review process typically goes from late January through mid April. The final print publication comes out around May.